Want to reduce stress and help your body function at its best? Join certified Qigong instructor Katie Nall at Studio 14 on Wednesdays at noon!
Your first Qigong class is FREE! Anytime you bring a new guest, you are both FREE!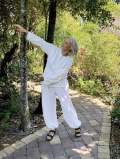 The ancient practice of Qigong is based on traditional Chinese medicine principles, which state that qi (or energy) is present in everyone's body. A person's qi must flow throughout the body for people to feel their best. Qigong uses simple poses, slow-flowing movement, and breathing patterns to promote a healthy flow, which can help your body engage its own healing processes and boost your well-being.
Katie's lunchtime Qigong class can help you feel your best. Potential health benefits can include less stress and anxiety, positive effects on bone and cardiovascular health, and improved balance.
Class fees
$15 for a single class
$12 per class with the purchase of a ten-class card
Class cards do not expire, are nontransferable, and have no cash value.