What is Zumba® Fitness?
Zumba® Fitness is a dance fitness program created by Colombian dancer and choreographer Alberto "Beto" Perez. Zumba® Fitness mixes low- and high-intensity moves for an interval-style, calorie burning fitness party!
Who should come? Everyone! What have you got to lose?
Our goal is simple. We want to help you achieve your personal goals and enjoy and maintain a healthier lifestyle through dance and fitness!
The studio offers 14 Zumba® Fitness classes each week, both Mat and Apparatus Pilates classes, and Butts & Guts classes that will transform your body. Check out our class schedule for days and times. Our Zumba® Fitness classes include classes that are great for those new to Zumba® Fitness. A five-hour comprehensive personal self-defense course, Sascom Systems, is offered monthly.
In addition, a unique and diverse set of products and services is available, including personal training, a Nutrition Club, therapeutic massage, micro-current point stimulation therapy, and indoor air quality and mold inspection. The studio also serves as a distributor for Herbalife and Greens Plus products … and more!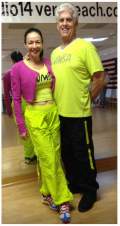 We are located in the charming Shoppes of Seminole Courtyard in Vero Beach's historic downtown art and antiques district. Explore our website, and stop in or give us a call. (Spanish, Portuguese, French, and Italian are spoken here.) We would love to hear from you!
Scott and Sandra Redfield
XOXOX
No monthly fees! No contracts!
Your first Zumba® Fitness or Mat Pilates class is FREE!
Ditch the Workout - Join the Party!