We have the best instructors! We always have two to four instructors at every class. You can't imagine the impact multiple instructors have on the energy and excitement of a Zumba® Fitness class!
Our instructors are licensed by and current with Zumba® Fitness, have been through Level II FBI background checks, have been approved by the Indian River County School District to work with children, and hold current certifications in Heartsaver AED and CPR.
Meet Our Studio Team
Sandra and Scott Redfield, owners of Studio 14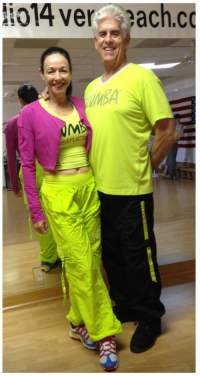 Both Sandra and Scott are licensed massage therapists; certified Athletics and Fitness Association of America group exercise instructors; certified AFAA personal trainers; certified instructors, Sascom Systems Personal Defense; and since 2008 licensed Zumba® Fitness instructors (Zumba I and II, Zumba Toning, Zumba Step, Zumba Sentao, Zumba Circuit, Zumba Kids, Zumba Kids Jr., Zumba Gold, and STRONG by Zumba™); Sandra is also a Pilates instructor and is licensed and certified by Les Mills to teach Body Pump and Body Combat; Scott is also a licensed mold inspector
Originally from Brazil and fluent in Portuguese, Spanish, French, Italian, and German, Sandra came to Vero Beach in 1997 to open the Spanish and French language programs at Saint Edward's School
Holds an M.S. in Language and an A.S. in Physical Therapy
Thirty+ years' martial arts and self-defense experience; studied jazz dance, classical ballet, and Martha Graham modern dance
Favorite Zumba songs: Wiggle Wiggle, Circus, Salome, Yasou Ellada, La Bicicleta, Despacito (and many more!); loves fast songs that challenge students' cardiovascular systems; creates or chooses intricate choreography, with attention to safety and accurate cueing, to challenge students mentally and improve their coordination and balance
Loves teaching Zumba and sharing the joy of dance because teaching allows her to interact and connect with everyone in class; delights in the smiles of her students and the opportunity to improve their level of fitness and the quality of their lives
Hobbies include creating choreography and studying the Bible
Favorite verse: Let not your hearts be troubled. Believe in God; believe also in me. John 14:1
Most proud of her husband, Scott
Scott is from Dobbs Ferry, New York; first came to Vero Beach to help take care of his dad; Vero Beach has been his hometown since 1990
Holds a B.S. in Biology and Chemistry and an A.S. in Physical Therapy
Thirty+ years' martial arts experience in four disciplines; cocreated and continues to develop the five-hour Sascom Systems Personal Defense class; loves teaching self-defense and seeing women evolve during the five hours to feeling empowered
Loves teaching Zumba because Zumba impacts lives profoundly; the relationships formed in classes at Studio 14 go way beyond the class time itself; students often refer to the studio community as their "Zumba family" and value the support they receive from studio family members during challenging times
Favorite saying: Instead of waiting for life's many storms to pass, love the Lord and learn to dance in the rain.
Most proud of his wife, Sandra
Wants you to know: Studio 14 is about so much more than just fitness classes; encourages you to experience the studio's community, where everyone will know your name
When not at the studio, Sandra and Scott can likely be found at Central Assembly of God; blessed to have in and enriching their lives Pastors Buddy Tipton, Larry Boan, Jon Hamilton, Billy McCloud, and Rick Smith, their personal Cell Pastor, to name a few
Yvonne Koutsofios, licensed Zumba® Fitness instructor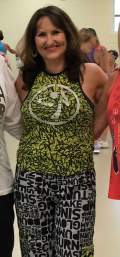 From Chicago, Illinois
Holds a real estate broker's license; GRI certification (graduate of the Realtor's Institute)
Learned about Zumba in 2009, first Zumba class at Studio 14 in 2010; licensed instructor since 2013
Loves teaching Zumba and dancing to great music because it doesn't feel like exercising; Zumba is not only a great workout - it is a great stress reliever!
When not at the studio, can likely be found working during the week and enjoying her family on the weekends
Most proud of her family
Favorite quote: You are what you eat!
Roxanne Zoffer, licensed Zumba® Fitness instructor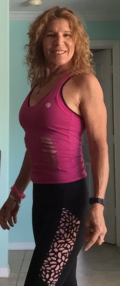 Registered Nurse-B.S. in Nursing
Favorite Zumba song: Te Estoy Amando, a dance that was challenging at first but became easier as she became stronger
Loves teaching Zumba because of the positive energy between her and her students ("endorphin heaven!")
When not at the studio, can likely be found at a lacrosse field
Most proud of her four children and using, along with a whole lot of determination, the studio's different classes to transform her body
Best fitness advice: if your goal is to achieve change, it is essential to include as part of your workout routine different forms of exercise (Zumba® Fitness to burn calories, Butts & Guts to build muscle, and Pilates to lengthen and strengthen)
Tamara Darress, Bombshell Burlesque choreographer

Born in Singapore; came to Vero Beach during her high school years with her family and graduated from Vero Beach High School; she has lived all over the world, including Japan, Italy, Pennsylvania, California, and Texas
Holds a B.S. in Occupational Therapy, NFL Miami Dolphins Cheerleader, Arthritis Water Aerobics Instructor, Incontinence Training Specialist
As an internationally televised and published Pin Up model, she often travels working as a model or photographer
Tamara owns Glitter Glam Studios, specializing in pin up, glam, and boudoir photography; on weekends she travels the U.S. teaching her Bombshell Academy Bootcamp, with a focus on pin up posing, vintage glam hair, and makeup tutorials, followed by a makeover photoshoot; she produces a LIVE shopping show one to two times a week on three different platforms (Popshop LIVE, Whatnot, and Facebook LIVE), showcasing her apothecary line and vintage boutique
When she is not working in front of or behind the camera, she can be found whipping up handmade products made with her essential oil line called the Parisian Hostess Apothecary and publishing the Modern Day Pin Up Magazine
Tamara loves getting glammed up and also loves farm life; she has chickens, ducks, and two donkeys named Jack and Jenny
She is most proud of having dedicated her life to helping people from the inside out and helping empower women to feel comfortable in their own skin
Favorite quote: Pin Up Gals have the best curves!
Lucrecia (Lu) Quintao, beauty technician, Beauty by Lu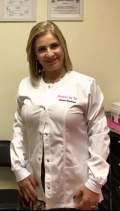 From Coronel Fabriciano, Brazil
Fluent in Portuguese and Spanish
Beauty by Lu is located within Studio 14
Services include microblading (eyebrows and lips), eyelash extensions, manicures, and pedicures
Follow Lu on Instagram - beauty_by_lu
By appointment only - 772-360-6019
Chris Morgan, creative computerist and Zumba® Fitness enthusiast
From Pittsburgh, Pennsylvania
Holds a B.S. in Management
Assists with marketing materials and communications
Favorite Zumba songs: Lo Que No Sabes Tu, Algo Contigo
What she likes most about Zumba: the group dynamic and the amazing group of women at Studio 14
When not behind a computer or at the studio, can likely be found with her husband on a beach walk or bike ride
Most proud of the studio website redesign project and moving from the back row to the stage at Zumba
Favorite quotes: Jeremiah 29:11, Romans 8:28, and When you really pay attention, everything is your teacher.