How long is each Zumba® Fitness class?
Each class is one hour long and feels like a party! New party people should arrive ten minutes early for their first class to complete some paperwork.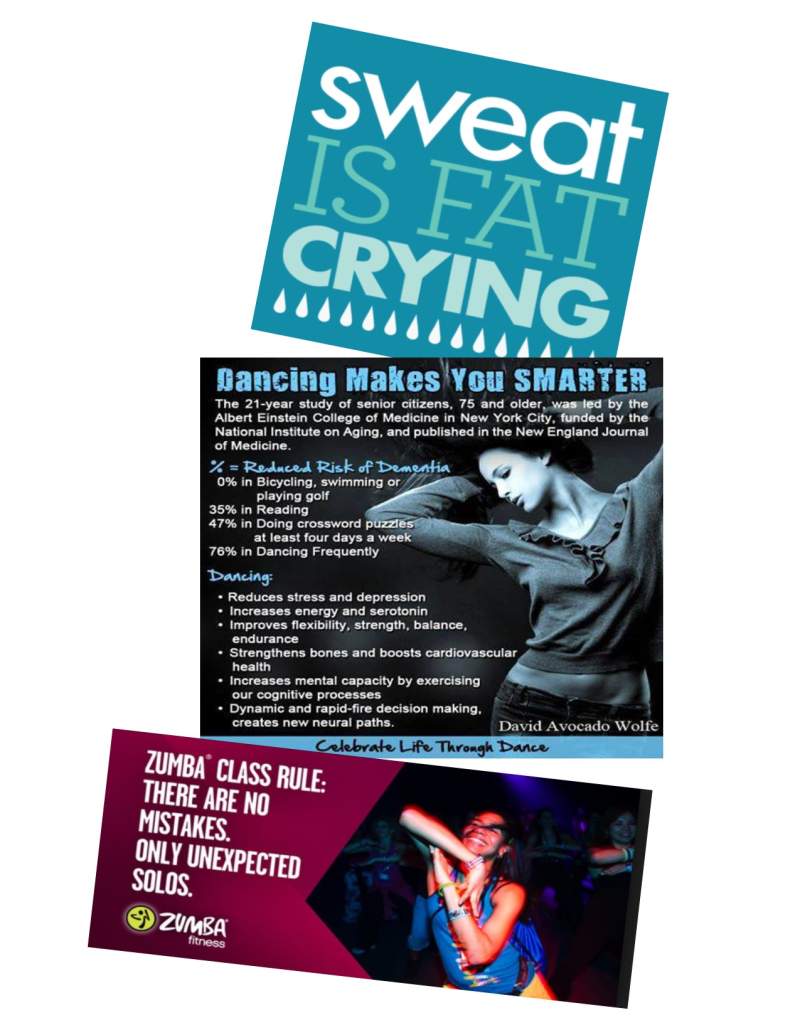 What should I bring to class? What should I wear?
Bring plenty of water and a towel (you will sweat!). Most importantly … bring your enthusiasm! Wear comfortable, workout type clothing that will allow you freedom of movement.
What kind of shoes should I wear?
Wear supportive sneakers. Zumba Fitness incorporates lots of side-to-side movements and pivoting. A sneaker with a low profile is better because it will allow you to slide instead of stopping you in your tracks. If shoe shopping, look for dance sneakers or athletic dance shoes that have pivot circles on the bottom of the shoes (beneath the balls of your feet).
Where should I park?

There is a small parking lot next to the Shoppes of Seminole Courtyard that is accessible from both 14th Avenue and Old Dixie Highway. Street parking is available in back of the studio on Old Dixie Highway and in front of the studio on both sides of 14th Avenue. All parking is free.
I'm not very coordinated - I don't know how to dance - can I still take a Zumba® Fitness class?
Absolutely. No experience necessary! Zumba® Fitness is not about perfection, and the moves are easy to learn, especially if you come to class regularly.
Do I have to be in good shape to do Zumba® Fitness?
We have all ages, all shapes, and all sizes in our classes! Our Zumba® Fitness enthusiasts range in age from 4 years old all the way up to 98 years young, at every fitness level imaginable. Remember ... this is your class, and you can move as fast or as slowly as you feel is right for you. Listen to your body. If you need to take a break, take a break!
How many calories will I burn during a one-hour Zumba® Fitness class?
Depending upon your height, weight, age, and workout intensity level, you can expect to burn between 500 to 800 calories. The more you work it, the more you will burn!
Any other helpful tips?
Don't worry about counting steps or dancing the same as the person next to you. Just keep moving and have fun! You will pick up the steps over time. You can even bust your own moves! And while each instructor brings his or her own style to the dance routines, the dance choreography is the same no matter which Zumba® Fitness class at our studio you attend.
How much do Zumba® Fitness classes cost?
Your first Zumba® Fitness class is FREE! Anytime you bring a new guest, you're both FREE! Anytime you bring more than one new guest, you get free passes for future use! When you run out of new party people to bring to our classes, you currently have three options:
$8 for a single one-hour Zumba class
$6 per class with the purchase of a ten-class card
$5 per class with the purchase of a thirty-class card
Class cards do not expire, are nontransferable, and have no cash value.
Do you take credit cards?
Yes - American Express, Visa, and MasterCard accepted. Gift certificates are available!
Have more questions?
Give us a call - 772-532-9277 -
or send us an email - zumbaworks@gmail.com!