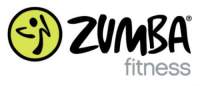 Zumba® Fitness takes the "work" out of a workout by mixing low- and high-intensity moves for an interval-style, calorie burning fitness party! Our Zumba® Fitness classes incorporate dance steps (merengue, salsa, mambo, cumbia, and more!), with extra emphasis on toning and sculpting. Zumba Sentao® combines strength and resistance training with innovative dance moves using a chair as your dance partner. Once the Latin and World rhythms take over, you'll see why Zumba® Fitness classes are often called "exercise in disguise."
Ditch the workout - join the party! Zumba® Fitness is fun, different, easy, effective, and your first Zumba® Fitness class is FREE!
Class fees
$8 for a single one-hour class
$6 per class with the purchase of a ten-class card
$5 per class with the purchase of a thirty-class card
Class cards do not expire, are nontransferable, and have no cash value.
What to wear/bring
Wear supportive sneakers! Zumba® Fitness incorporates lots of side-to-side movements and pivoting. A sneaker with a low profile is better because it will allow you to slide instead of stopping you in your tracks. If shoe shopping, look for dance sneakers or athletic dance shoes that have pivot circles on the bottom of the shoes (underneath the balls of your feet). Wear comfortable, workout type clothing that will allow you freedom of movement. Bring plenty of water and a towel (you will sweat!). Most importantly, bring your enthusiasm!
Have more questions? Check out our Zumba® Fitness FAQs page!