We offer Dolphin-MPS therapy to treat acute and chronic pain, scars, and adhesions in an all-natural, drug-free way.
What is Dolphin-Microcurrent Point Stimulation therapy?

The Dolphin Neurostim™ portable pain relief unit is used to apply brief, concentrated microcurrent impulses to specific acupuncture points that naturally reduce nervous system stress and cortisol, relaxing muscle tone and releasing endorphins, the body's natural pain killers. Dolphin-MPS Therapy is the world's first integrative therapy developed exclusively to deregulate the autonomic nervous system and fight chronic pain. The theoretical underpinnings of Dolphin-MPS Therapy are based upon combining the "therapeutic" of acupuncture, osteopathy, and neural therapy with modern neurology.
Benefits of Dolphin-MPS Therapy
MPS Therapy with the Dolphin Neurostim™ treatments are non-invasive and quick - 3 to 20 minutes - and can have a number of benefits:
Relief from acute and chronic pain
Reduction of stress
Accelerated cellular healing
What medical conditions can Dolphin-MPS Therapy help treat?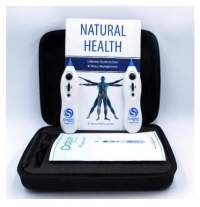 Dolphin-MPS Therapy can be used as a back pain relief device and can provide relief for a number of medical conditions, including:
Arthritis
Back pain and sciatica
Bursitis
Knee pain
Tendonitis
Stress and anxiety
Temporomandibular joint dysfunction and disorders
Inflamed joints
Fibromyalgia
Sports injuries
Menstrual cramps
In addition, Dolphin vagal nerve stimulation is a promising new therapy to combat the lingering adverse effects patients are experiencing with Covid long-haul symptoms. Vagal nerve stimulation, an emerging field of bioelectronic medicine, is now supported in science as a viable therapy for the treatment of stress-related disorders.
To learn more about the Dolphin NeurostimTM, visit dolphinmps.com or call 772-532-9277.
Fees
$75 for a single one-hour treatment
$60 per treatment with the purchase of a ten-treatment card
$55 per treatment with the purchase of a thirty-treatment card
Treatment cards do not expire, are nontransferable, and have no cash value.
American Express, Visa, and MasterCard accepted. Gift certificates are available! Gift certificates do not expire, are nontransferable, and have no cash value.